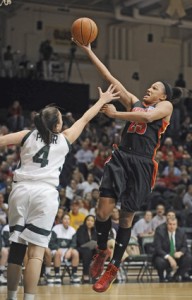 Brenda's traveling road show moved into Reitz Arena in Baltimore as the Terps coasted to victory behind Marissa Coleman's 19 points and 13 rebounds. Lynetta Kizer also netted a double double last night.  Kristi Tolliver scored only 2 points going 1 for 8 from the field. Look for her to come back strong after the 12 days off for finals. The #15 Terrapins are now 8-2 on the year.
December 10th, 2008 |
0 Comments »
No comments have been posted yet, be the first!
Post a comment by filling out the form below.