To the victor goes the spoils. To no one's surprise a Maryland Terrapin was named Player of the Year. National Championships produce these honors.  Susie Rowe has capped off a storybook senior season by earning the Honda Award as the top collegiate field hockey player, it was announced Monday. The honor was based on the results of national balloting among 1,000 NCAA member schools as part of the Collegiate Women Sports Awards program, now in its 33rd year.
Rowe earned the award with a record-setting senior campaign. Leading the Terrapins to their third national championship in her four years, Rowe finished with 28 goals and 74 total points, both all-time Maryland records.
The senior back was the Terps' go-to scorer on penalty corners, and proved why in the second half of the National Championship game, scoring what would eventually be the game-winner off a penalty corner assist from sophomore Katie O'Donnell.
"I was speechless when I found out that I had won the Honda Sports Award," noted Rowe. "Ever since I came to the States I have had one amazing experience after another. I feel very fortunate to have had this opportunity to play field hockey at the University of Maryland. I have to thank my teammates and of course my coach Missy Meharg, who has taught me so many things I don't know where to start. I'd also like to add that I could never have achieved what I have without the incredible support of my parents, who brought me back and forth from more practices and games than I'll ever remember!"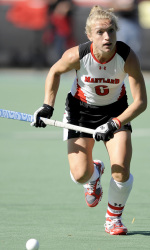 December 17th, 2008 |
0 Comments »
No comments have been posted yet, be the first!
Post a comment by filling out the form below.