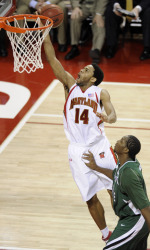 Saturday morning on ESPN 1300 I predicted that Sean Mosley was beginning to find his offensive game and sure enough as the Terps were trailing 18-7 to Charlotte, Coach Williams summoned his #1 2008 recruit off the bench and Sean responded with his best offensive effort of the year scoring 11 points and hitting 2 from the 3 point range. Mosley's continued to d up and rebound effectively .
Gary had the following to say postgame: "He's (Mosley) been doing a great job in practice. Sean was Player of the Year in Baltimore. Sometimes I think that doesn't get enough attention in recruiting circles. He's a great player. He struggled shooting early, but he's kept at it. He's worked at it, and he's worked hard before and after practice. This is a whole new thing for him at his size, having to guard guards and not play the other team's big guy like he did a lot of the time in high school. It's a learning process. Sean's just hung in there, and I'm really proud of him. I'm really proud of the way he's worked since he set foot on campus."
    Greivis scored 27 and Landon added 13 as the Terps moved to 11-2.  Perhaps this week they will finally enter the top 25.
     Behind Kriti Tolliver's 21 point points the Lady Terps iovercame a 5 point halftime deficit to coast to a 83-65 victory over the Richmond Spiders.  Lynetta Kizer and Demauria Lyles each contributed double doubles to help Maryland to victory.
January 4th, 2009 |
0 Comments »
No comments have been posted yet, be the first!
Post a comment by filling out the form below.