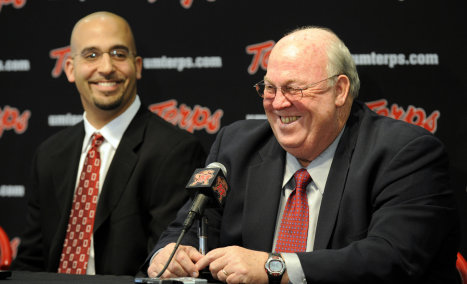 Maryland assistant head coach/offensive coordinator James Franklin has been named the eventual successor to head coach Ralph Friedgen, director of athletics Deborah A. Yow announced Friday. One of the top, young coaches in the nation, Franklin has experience at all levels of collegiate football and in the professional ranks. He has served as an assistant for five of Friedgen's eight seasons in College Park.
Franlin has proven to be stellar in the recruiting world. In his first year back, Maryland's recruiting class was ranked in the top 25 in the nation. Players produce titles especially playmakers. There are 5 such athletes this year and with the pursuit of Franklin on all levels, AD Debbie Yow wanted to insure the rise of football for years to come at Maryland. In summary a great move by the Athletic Department!!!!!!
February 7th, 2009 |
0 Comments »
No comments have been posted yet, be the first!
Post a comment by filling out the form below.