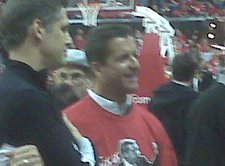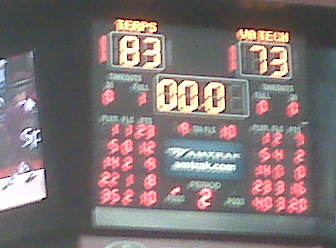 Give Gary Williams 6 days to prepare for a game and I will always love the Terrapins to win. I am doing a little research on this layoff factor and should have the results on Terp Talk Thursday night. Now for some observations on the game.
The Terrapins looked more ready then they have at any time this year. There was a mission tonight. The NCAA bid is certainly back in play . I can't wait for Tuesday night at Clemson.
I talked to Sean Mosley after the game and asked if he was especially up for playing Malcolm Dulaney. He commented on how he dreamed about this game. Sean must have caused 10 disruptions in the Virginia Tech offense, a stat that doesn't show on the sheet but occurs every game.
Landon Milbourne was 8-11 from the field and finished with 23 points. Steady Steady Steady!!!
The Terps shot 24-26 from the line. Therefore the lead was never in jeopardy.
Ravens Coach John Harbaugh thrilled the crowd when he donned a Gary Williams shirt in the middle of the first half.
The 83-84 ACC Champs were honored at halftime and yes the lefthander Lefty Driesell was there.
Seth Greenberg commented after the game "Obviously they played well. They had a week to prepare. They took us out of what we wanted to do, and we reacted to them the whole game. I was really disappointed in our team. I thought we had no sense of urgency whatsoever on the defensive end. We had two absolutely two horrendous games of practice, and that's what you get when you have two bad days of practice. The game was a reflection of that. We were prepared, we knew what we wanted to do, but we had no flow offensively. We had no commitment to getting stops. They out toughed us. They had a greater sense of urgency, and that's my fault. I take full responsibility. I'm sure practice Monday will be more spirited."
Eric Hayes seems to be relishing his role as 6th man, though Coach Williams was quick to point out how effective Hayes was as a starter versus Georgia Tech.
On a recruiting note from zagsblog.com James Padgett, a member of the 09 class, scored 23 with 11 rebound in a losing effort against Westchester tonight.
Next up for the Terps, Clemson at Littlejohn arena Tuesday night at 7:30PM.
February 15th, 2009 |
0 Comments »
No comments have been posted yet, be the first!
Post a comment by filling out the form below.