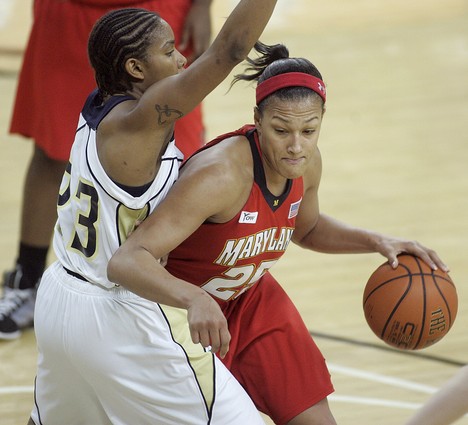 Freshman center Lynetta Kizer did a little bit of everything on Thursday, scoring a career-best 22 points and adding 10 rebounds to help lead the No. 9/7 University of Maryland women's basketball team to its sixth straight win, 87-79, over Georgia Tech at Alexander Memorial Coliseum. Kizer, the Atlantic Coast Conference Preseason Rookie of the Year, went 9-for-12 from the floor and recorded a career – and team season-high five steals with three blocks (t-career-high) and two assists. Terrapin senior Marissa Coleman provided another electric performance, scoring a game-high 23 points with eight rebounds and a season-high seven assists. Coleman went a perfect 11-for-11 from the free-throw line.  Maryland (22-4, 9-2 ACC) shot 52.7 percent from the floor and, against the league's top scoring defense, netted 87 points – the most points the Yellow Jackets (18-8, 5-6) allowed all season.
 Kizer is quickly becoming the key to late season success for the Terps . When she is turning it up inside, the Lady Terps become an unstoppable force with its 2 Seniors getting the open looks they need.   Come on NCAA tourney.
February 20th, 2009 |
0 Comments »
No comments have been posted yet, be the first!
Post a comment by filling out the form below.