In a tightly contested battle , Maryland was up on the Hoyas 7-6. I turned to the gentleman from Lacrosse magazine and said the next goal would dictate the game. The Terps had the ball-threw it away and the Hoyas started a 6 goal run, the first team to separate in a close game usually wins. Bryn Holmes controlled the draws 12-5 but it wasn't enough as the Hoyas stifled Maryland's vaunted attack and coasted to a 3 goal victory. Next up for the Terps is Duke at the Konica Minolta Classic at M&T next Saturday.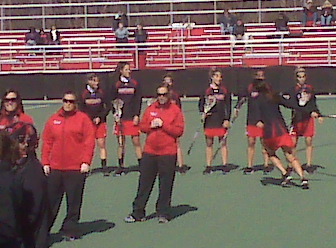 The Lady Terps fared much better Saturday crushing UMass 16-4 after surviving stalling tactics from The Minutewomen. caitlyn MacFadden scored 7 goals and Karri Ellen Johnson added 3 more for the Terps.
February 22nd, 2009 |
0 Comments »
No comments have been posted yet, be the first!
Post a comment by filling out the form below.