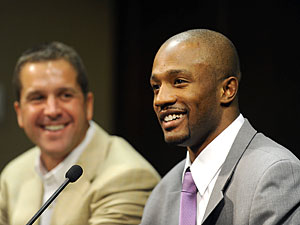 Former Terrapin Domonique Foxworth, who played at Catonsville's Western Tech,  signed a four-year deal worth $27.2 million, including $16.5 million guaranteed with the Baltimore Ravens today. Foxworth had a stellar career as a dback at Maryland which led to his draft into the NFL as a 3rd round pick of the Denver Broncos.
The Ravens lost Bart Scott and Jason Brown to free agency today and it is beginning to appear #52 might be gone as well. It sickened me today to listen to the fans pile on Ray Lewis after all that he has done for the Ravens. When these negotiations get hot and heavy, evryone runs to his own corner. I still believe Ray will sign and end his career as a Raven.
"I've dreamed of playing here," Foxworth said at today's news conference.
February 28th, 2009 |
0 Comments »
No comments have been posted yet, be the first!
Post a comment by filling out the form below.