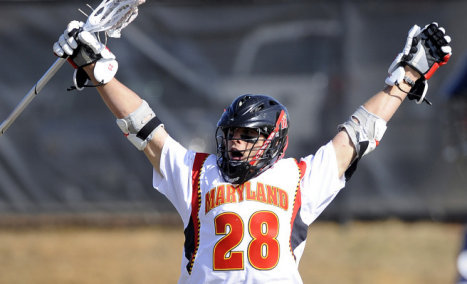 Jeff Reynolds secured 2 draws late in the 1st half which led to 2 quick goals and a 5-3 lead that the Terrapins never relinquished. Grant Catalino added 2 goals and 4 assists. Goalie Brian Phipps went the distance in a stellar 13 save performance. All of these efforts resulted in a dominating 11-8 victory over the #12 Blue Devils at M&T Bank Stadium before 17000 freezing fans. For the first time this year Bryn Holmes was dominated on faceoffs which caused Coach Cottle to call on Jeff Reynolds. #28 responded  by winning 8 of 12 draws, sesveral of which led to immediate scores. The Terrapins move to 4-1 overall and 1-0 inthe ACC Next up: On the road at Towson next Saturday.
The #5 Lady Terps avenged last years NCAA loss to Duke by upending the #2 Blue Devils 15-13 at the Field HockeyComplex at College park. Karri Ellen Johnson put the game away with 2 late goals to send the Terps to a 15-11 lead. Laura Merrifield returned to the lineup and scored 5 goals leading the 3-1 Terps to victory.
Hats off to Inside Lacrosse for running a great event. Hopefully Maryland can return to the faceoff Classic next year!!
March 1st, 2009 |
0 Comments »
No comments have been posted yet, be the first!
Post a comment by filling out the form below.