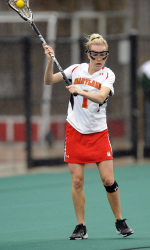 Coach Cathy Reese takes her unbeaten Terrapin squad into Dartmouth today. The Terps have been led by the prolific scoring depth consisting of Laura Merrifield, Sarah Mollison (pictured), Caitlyn McFadden, and Freshman Karrie Ellen Johnson. The depth across this lineup is incredible. The Terps return home Saturday to face Boston College at High Noon as a prelude to the Men's game against North Carolina.
Just some observations on the Men's efforts this past weekend.
Perhaps after a lethargic effort Saturday, Coach Cottle might return to his starting attack from last year, which includes Travis Reed who seems to have found his shooting touch. 
Does he return with Brian Phipps in the nets Saturday?
North Carolina comes into Maryland riding a 12-8 win over #1 UVA. The schedule just gets tougher and tougher.
March 18th, 2009 |
0 Comments »
No comments have been posted yet, be the first!
Post a comment by filling out the form below.