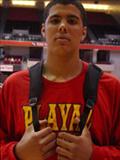 Jordan Williams, 6'9 245 highly touted Terrapin Recruit will call into the show on Thursday night. Tune in at 6PM as Dino will be back from his Florida Oriole scouting trip. Of course we will review the Men's performance in the NCAA as well as assess the Lady Terps' chances to go the distance. Listen in on the web at www.espn1300.com or click Listen Live right here on my website.
March 24th, 2009 |
0 Comments »
No comments have been posted yet, be the first!
Post a comment by filling out the form below.