It seemed like the offense looked more cohesive early on without Yeatman. I wonder what Dave Cottle thought and how will he bring Will back into the lineup Tuesday. 
Looking ahead, the Terrapins have 3 games left that barring something strange whould be in the win column–Binghamton, Penn, and Yale. That would give them 9 wins. Coming up will be the ACC Tournament. Even a first round loss will leave the Terps at 9-6 which should be enought to get in. On the hand, there is no reason the Terps can't win the Championship, a dynamic which I am beginning to believe might happen.
Cottle was very optimistic after the game Saturday. can the breaks keep going against the Terps. the UVA game still lingers in my memory.
I thought Brian Phipps played great Saturday. Is it Jason Carter on Tuesday?
Yesterday I forgot to mention that defenseman Mac Schmidt held Hopkins great Stephen Boyle scoreless.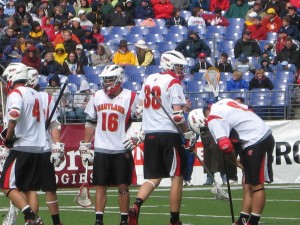 April 13th, 2009 |
0 Comments »
No comments have been posted yet, be the first!
Post a comment by filling out the form below.