The Lady Terps moved to 19-0 defeating the Ivy League Tigers Saturday on Senior Day at the Field Hockey Complex. Caitlyn McFadden (a guest on last Thursday night's Terp Talk) scored 4 goals for Maryland. Now the Terps await the NCAA selection show tonight at 10PM to see what their hopeful run to the title will entail.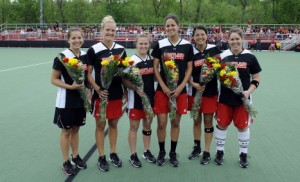 May 2nd, 2009 |
0 Comments »
No comments have been posted yet, be the first!
Post a comment by filling out the form below.