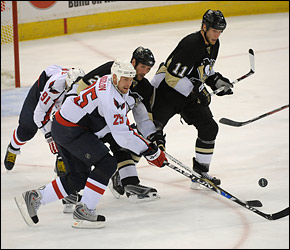 Pittsburgh owned this game as soon as they took the lead 2-1, but trouble could be brweing for Crosby led Penquins as maybe their 2nd or 3rd best player, Sergei Gonchar, was taken out by #8 on a tripping penalty. Mike Wise in the Post had a great rcap of game 4. The Penquins now accuse Ovie of being a Russian take out artist. Of course no player has received mor cheap attempts at maiming  then Ovechkin. The thing I love about #8 is how tough he is, never cries about blatent attempts to injure him and is always ready to dish it out. That being said, Donald Brashear will return for game 6, so Penquins beware of taking revenge shots on Ovie because you will pay dearly!!!! My prediction: Varlamov returns to form CAPS WIN GAME 5—-3-1. Pittsburgh is not the same tem without Gonchar.
May 9th, 2009 |
0 Comments »
No comments have been posted yet, be the first!
Post a comment by filling out the form below.