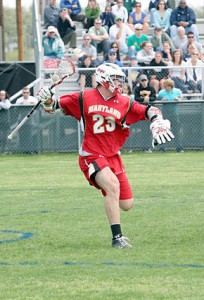 Here is the key stat of the day –Phipps had 9 saves and the Terps were 20-20 on clears many of them pinpoint sharp downfield passes by the sophomore goalie. Maryland's game plan worked to perfection today. Forget the hogwash uttered by Notre Dame's coach of the firing of shots too high. Next year Notre dame should schedule less patsies and put some top ten teams on the schedule. The Irish were just not ready for the Terps aggressive game plan. Dave Cottle had this team ready to play. Groot, Seiverts and Ryan Young were exceptional foe Maryland. Will Yeatman had 2 assists in limited time on his former home court.
Half of the Terps' first six goals came from third-line midfielders Adam Sear and Rob Morrison and reserve attackman Joe Cummings. "We were getting contributions from other guys," coach Dave Cottle said. "I think that really helped us." … Maryland went 20-for-20 on clears. The Fighting Irish went 10-of-15. Next up for the Terps is Syracuse in Hempstead Long Island Saturday afternoon. Analyzation of that game will be seen hear in the next few days.
May 10th, 2009 |
0 Comments »
No comments have been posted yet, be the first!
Post a comment by filling out the form below.