It's the same old song for the Orioles. The Birds just cannot hold a late inning lead against their 2 dreaded enemies–Boston and New York. Behind the fabulous pitching from Koji, the O's carried a 3-1 lead into the 7th inning.  First Jaime Walker gets clocked by Cano and then Johnny Damon belts a 3 run homer off Johnson. Case closed–Orioles lose before 33,000 Mothers' day fans. Aubrey Huff provided all the O's offense with a 3 run homer off of Joba Chamberlain in the f1rst inning. Afraud went 1-4 on Sunday.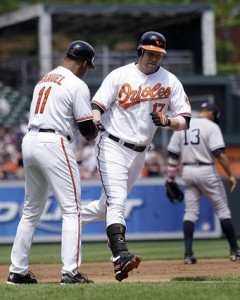 May 10th, 2009 |
0 Comments »
No comments have been posted yet, be the first!
Post a comment by filling out the form below.