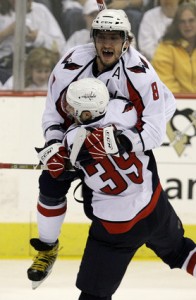 The defense remains weak but the Caps resolve was strong as Ovie had 3 assists and played a tremendous game leading his Caps to victory. When the caps took the lead on Koslov's goal the team went into offensive hibernation. Varlamov stopped shot after shot until Crosby rebounded one in with 4 minutes left. It was great to see Semin reenter the series but there is a still a MIA alert for Mike Green. The 7th game Showdown occurs Wednesday night at Verizon center.
May 12th, 2009 |
0 Comments »
No comments have been posted yet, be the first!
Post a comment by filling out the form below.