Forget the final 17-13 score, the Ravens thoroughly dominated the Panthers tonight. Steve Smith was virtually shut out by ex-Terp Dominique Foxworth. #5 was 23-27 and 247 yards. Ozzie's decision to go with added strength at the Oline is paying off as Flacco had all day to pass. Ray Rice turned in an excellent performance.  I have a hunch that we haven't seen the last of Matt Stover.  Before I forget Todd Heap returned to the team after a 3 year hiatus.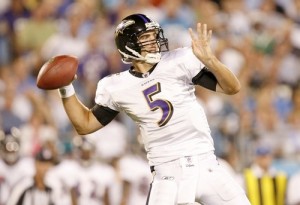 August 29th, 2009 |
0 Comments »
No comments have been posted yet, be the first!
Post a comment by filling out the form below.