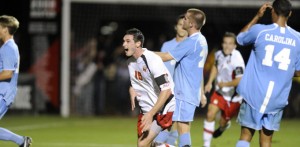 In front of a Ludwig Field record crowd, Maryland fifth-year senior captain Kevin Tangney provided the No. 4 Maryland men's soccer team with the late game-winner as the Terps blanked No. 2 North Carolina, 1-0, on Friday night. Terrapin goalkeeper Zac MacMath booted a long ball to the other box which deflected off a Tar Heel defender in the 88th minute. Tangney, who went up for the 50-50 ball, found the deflection and headed the ball to the upper right corner with 1:55 remaining to cap what was already a magical night at Ludwig Field. For Tangney, a player who has missed two full seasons due to a pair of ACL tears, it was a storybook ending to an evening that had so many great moments.
"That was one of the best moments of my 17 years here and not because we won the game against a great opponent but in the player that found the way to get the game-winning goal," head coach Sasho Cirovski said. "With all that he has been through, I rarely talk about a single player after a game, but you have a gulp in your throat when he scored that goal and had that celebration because you know what he's gone through. He's made of the best stuff on earth."  Check oiut the interview with sasho on the Sept 24 rebroadcast of Terp Talk.com.  Info from umterps.com
September 25th, 2009 |
0 Comments »
No comments have been posted yet, be the first!
Post a comment by filling out the form below.