I journeyed along with 100,000 others to Landover last night to catch U2 for the first time. Some of my comments
Most incredible staging of a show I have seen.
Amazing how 4 guys can generate such great music.
Bono's voice and showmanship were great. Edge –awesome
Just sorry I didnt know any of the new songs.
My last trip to FedEx unless Maryland or the Ravens are playing.
U2 was great but there is definitely an East Coast bias towards the Boss.
By the way tickets for the Boss in Baltimore might just be the hottest in the country right now.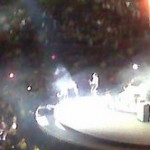 September 30th, 2009 |
0 Comments »
No comments have been posted yet, be the first!
Post a comment by filling out the form below.