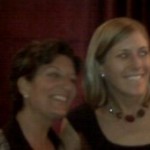 What a great night to be a Terp. the M Club and Ziz put on a great show last night, highlighted by an incredible acceptance speech by 5 Time NCAA Championship Coach, Missy Meharg. Just a little impression on each of the inductees.
Johnny Holliday–What a great broadcasting career the Voice of the Terps has had. The intro film highlighted his younger days as a rock and roll deejay. It's an honor to know Johnny.
Desmond Armstrong–I had the pleasure of sitting with Desmond and his wife. He is a very humble guy considering all that he has accomplished in his soccer career. Desmond was a star at Maryland, on the USA national team and at all levels of professional soccer.
Dale Castro–just a great athlete. Also pitched for the Terps. I remember him as a clutch placekicker. Dale was a key component of the success of Jerry Claiborne at Maryland.
Connie Hemphill and Rennie Smith. Connie still holds the record for most wins bya Maryland pitcher in his career (21). Rennie Smith was a member of the 55 undefeated National Championship lacrosse team and went on to be an assistant coach for years at Maryland.  Like Brian Dougherty last year, Rennie was extremely entertaining on the podium.
Katie Kaufmann Beach —Katie had a stellar hockey career at Maryland under the tutelage of Missy Meharg. She also went on to a great post graduate career with the US National Team. All of her coachers praised her work ethic abd team leadership.
Missy Meharg–7 ACC Titles, 7 Times National Coach of the Year and 5 NCAA Titles. What else has to be said. I will try to get the audio of her acceptance speech on the site.
October 3rd, 2009 |
1 Comment »