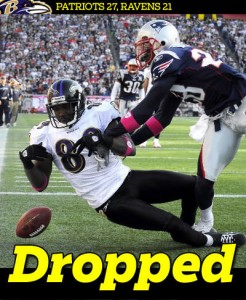 This is one simple headline the Sunpapers nailed on the head. We can talk til we are purple in the face about the QB roughing calls, the bad spot before the Patriots field goal, the fumble on the opening kickoff, etc but it all came down to a dropped pass from Mark Clayton that was right between the 8 and 9 on his jersey. No excuses, no this was just 1 play, it cost us the game. This game hurt every Raven fan to the core.
Good news on the Jared Gaither front. From the Sun comes the following: "The prognosis appears promising for Jared Gaither. The starting left offensive tackle returned to Baltimore with his Ravens teammates after suffering what appeared to be a head or neck injury in the second quarter of the team's 27-21 loss to the New England Patriots on Sunday.  X-rays at Massachusetts General Hospital on Gaither's neck and shoulder were negative. He collided headfirst with quarterback Joe Flacco's back while trying to block on a passing attempt. A magnetic resonance imagining is expected Monday on the 6-foot-9, 340-pound Gaither, who was too big to fit into the MRI machine at the Boston hospital." Terrapin nation is almost breathing a sigh of relief.
Keyshawn–tell me Mason is not a #1 receiver. What a great , gutty game he had today. I hope Clayton can recover from this game but we all know the "drop" is all we will hear for the next 72 hours.
I sure would hate to have to go back to Foxboro for the playoffs but this loss could result in that happening.
Brady looked like his old surgical self Sunday minus the fumble caused by #55.
The games are now 100% more enjoyable to watch with a functional offense.
The town treated this game bigger then almost any regular season game I can remember.
Remember if Clayton catches the ball, we were still not in the endzone. Those last few yards can be impossible to get.
Every game the duo of #23 and #27 seems to be getting more effective.
October 4th, 2009 |
1 Comment »