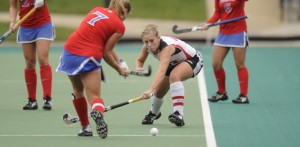 Today's game convinced me that Katie O'Donnell is certainly the greatest the greatest Field Hockey player that I have ever seen and probably the best that ever played for Maryland. In a day filled with records, junior Katie O'Donnell broke Susie Rowe's single-season points record, which was set at 74 last year. With her two-goal, three-assist performance Saturday, she now has 76 points on the year. She also tied both the Maryland and ACC record for career assists with 71.  (from umterps.com) What is even more amazing is that Katie almost had 3 more assists in the 1st half. The Terps take on Drexel today for the right to return to the Final Four next weekend.
November 15th, 2009 |
0 Comments »
No comments have been posted yet, be the first!
Post a comment by filling out the form below.