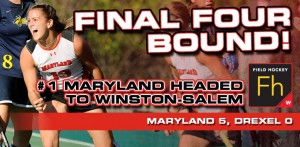 11-1 in 2 games–22-0—#1 Ranked—BACK TO THE FINAL FOUR!!!!—Missy Meharg's troops were just superlative this weekend!!!
The top-seeded Maryland field hockey team advanced to its second consecutive Final Four Sunday afternoon with its 5-0 win over Drexel. The Terrapins showed a complete controlling effort both on defense and offensively, led by Nicole Muracco's two goals.  Senior Nicole Muracco broke the game open for the Terps with two goals within two minutes just before halftime. (from umterps.com) The Terps outshot Drexel 33-2 and without the stellar play of Drexel's goalie , the Terrapins might have reached double digits in goals.
November 15th, 2009 |
0 Comments »
No comments have been posted yet, be the first!
Post a comment by filling out the form below.