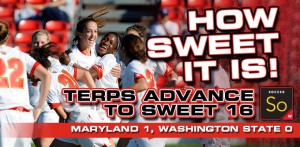 For the first time since 2004 the University of Maryland women's soccer team is in the Sweet 16 thanks to its 1-0 victory over Washington State Sunday afternoon at Ludwig Field. ""This feels great," said Maryland head coach Brian Pensky, who takes his Terps to the NCAA Sweet 16 in his first trip to the NCAA tournament. "I'm so happy for our players, our program and for everyone associated with it from our fans to our alumni to the university and administration. We've worked hard to get the program back to rebuild this program to get it to this level. So, this win today really means a lot." (from um terps.com)Well done, Brian. Next up North Carolina at Chapel Hill next Saturday afternoon.
November 15th, 2009 |
0 Comments »
No comments have been posted yet, be the first!
Post a comment by filling out the form below.