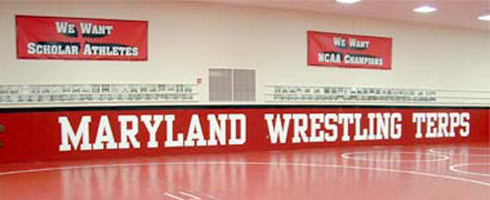 The 10th-ranked University of Maryland wrestling team earned its 16th win of the season Friday night, dominating George Mason by winning nine of 10 matches en route to a 35-6 victory.
Maryland won the first six matches of the meet to take a 21-0 lead before George Mason was able to get on the board, as the Terps cruised to their seventh win in the last eight tries. At 16-4 on the season, Maryland is one victory shy of tying the school record for wins in a season. The Terps went 17-6 in 1990 and 17-5 in 2007. (from umterps.com)
January 30th, 2010 |
0 Comments »
No comments have been posted yet, be the first!
Post a comment by filling out the form below.