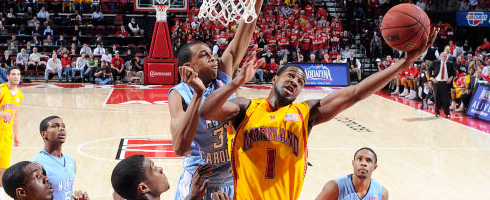 Had to watch this one on the tube as my attempts top get to College Park fell when I was caught in a 1 hour backup on 95. I got home just in time to watch an incredible effort by the Terps. i should have heeded all warning of the treacherous driving because IT IS TREACHEROUS.
Greivis was superb. 26 points and 11 assists. He had 5 or 6 memorable assists–1 to Dino driving the land and a left hand bounce pass to Eric for a 3. Can we begin to start thinking about Greivis as ACC Player of the Year.
Eric Hayes scored 16 on only 6 shots 4 of them 3 pointers.
Dino Gregory has been showing up big lately and today in 19 minutes he had 8 points , with 3 rebounds and out fought Tar Heels time and time again for loose balls.
Landon Milbourne became the 3rd Terrapin on this year's team to score 1000 points in his career at Maryland.
When you do well the games just keep getting bigger and bigger. Wednesday night it's UVA, probably the surprise team of the conference.
Gary's Post Game Press Conference :Williams Carolina
February 8th, 2010 |
1 Comment »