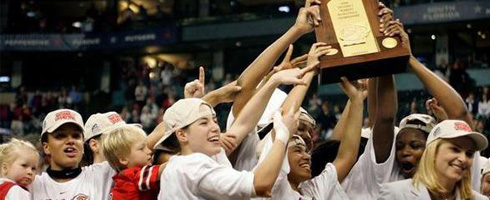 Maryland women's basketball signees Alicia DeVaughn (West Palm Beach, Fla.) and Laurin Mincy (Newark, N.J.) were selected to play for the East team in the 2010 McDonald's All-American High School game. DeVaughn and fellow incoming freshmen Alyssa Thomas (Harrisburg, Pa.) were also unanimous selections in ESPN's list of high school all-star teams.
"We're really proud of all five players we have coming in next year," head coach Brenda Frese said. "It is a really nice honor for players to be selected to various All-American teams. It doesn't guarantee anything in college, but it is a terrific reward for a tremendous high school career and all the people who helped them along the way. Alyssa Thomas was flat out the best player I saw over the summer.
February 14th, 2010 |
0 Comments »
No comments have been posted yet, be the first!
Post a comment by filling out the form below.