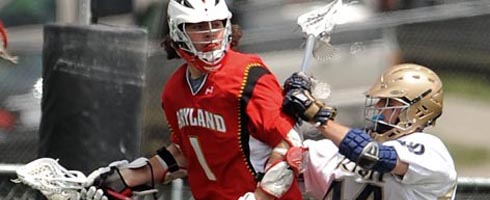 Without a doubt, perhaps the best all around game the Terrapins have played since 2006. The Terrapins dominated the game wire to wire, so much so that Carolina Coach even admitted as much post game: Joe Breschi Post game
The Terrapins shut out Billy Bitter. Brett Schmidt with help of his mates smothered Bitter and completely threw him offstride.  The whole effort was in stark contrast to last month's loss at Carolina where Bitter did not play. Brett Schmidt commented Brett Schmidt Carolina
Last week I was taking with Coach Cottle after the Hopkins game when he promised Fran Gormley that he would get more playing time this week. Cottle kept his promise and Fran responded with a stellar effort scoring once and getting 3 groundballs. Cottle's use of just about he entire team has led to the growth of the Terps. Cottle post Carolina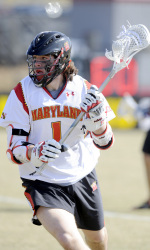 Grant Catalino scored 6 times after being stifled in the first Carolina game. We talked about this after the game.Grant Catalino post Carolina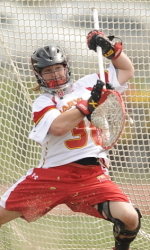 Brian Phipps had an incredible game with 12 saves. We talked about his great week so far.Brian Phipps Post Carolina
Fresman Joh Haus scored 3 goals for the Terrapins with his father (ex North Carolina Coach john Haus) in attendance. It was a great night for the youngster. John Haus
I must make mention of Bryn Holmes winning 13 of 20 faceoffs. The Terps won the ground ball battle 42-33 and were 18-20 on clears.
So now the Terrapins get the game they really wanted, a rematch with UVA, who easily defeated Duke today, Don't miss this one—-Sunday afternoon at 3:30 PM.
April 24th, 2010 |
0 Comments »
No comments have been posted yet, be the first!
Post a comment by filling out the form below.