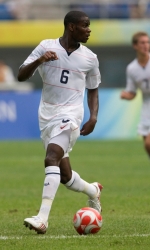 Two former Maryland men's soccer standouts will represent the U.S. at this summer's World Cup in South Africa, announced by head coach Bob Bradley Wednesday afternoon. Maurice Edu and Clarence Goodson have landed on the final 23-man roster that will compete for the U.S. Men's National Team in the 2010 FIFA World Cup. The pair was originally joined by fellow Terp Robbie Rogers on the 30-man preliminary roster before it was cut down Wednesday.
May 27th, 2010 |
0 Comments »
No comments have been posted yet, be the first!
Post a comment by filling out the form below.