Memo-13 (audio of Faust Committing on ESPNU)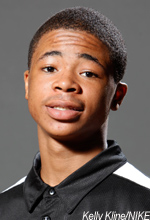 "Ultimately I'll destroy them"  This was the response  from Nick about how how misleading his baby face appearance is. After what seemed like a loooonnngggg honeymoon period, one of the top 2 guards in the country finally said YES –I will stay in state and attend the University of Maryland.  Arguably this is one of the top recruits to commit to Maryland in years, maybe even one of the top 2 or 3 ever. Nick is 6'6 from City College and handled himself wonderfully on ESPNU.
He will join a guard group of Pe"Shon Howard, Terrell Stoglin, and 2011 commit Sterling Gibbs in 2011. College Park is abuzz even thinking about the potential next year with Sean Mosley and Jordan Williams still around. Look at the videos of Faust and you will see how fluid and uptempo his game is.
What becomes even more time sensitive now is the visits this weekend of 2011 recruits Antawn Space, Desmond Hubert , and the final decision Monday from St Frances' Greg Lewis. It seems like the Terps will probably receive another commit over the weekend. Hats off to Keith Cavanaugh who never waivered in his belief that Faust would indeed become a Terp. Congrats to Gary, Bino , and the entire staff for their endless pursuit of this superstar.
It truely is a great day to be a Terp. The replay of Thursday night's Koons Ford Terp Talk will be online tomorrow night.
October 28th, 2010 |
2 Comments »