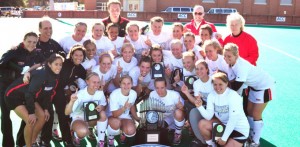 The top-seeded Maryland (19-1, 5-0) field hockey team defeated second-seeded North Carolina (19-2, 4-1) 5-2 Sunday afternoon to claim its third straight Atlantic Coast Conference championship and ninth overall. Junior Jemma Buckley notched her first career hat trick for the win. "Every player on Maryland's team played like a champion," head coach Missy Meharg said. "Coming off of a frustrating and hugely intense, adverse battle Friday night, these players did exactly as the coaching staff asked. We're just so excited to take home this championship from a great North Carolina team." Jemma Buckley scored 3 goals and the tourney's MVP Katie O'Donnell (who else) tallied 1 goal with 3 assists.
November 7th, 2010 |
0 Comments »
No comments have been posted yet, be the first!
Post a comment by filling out the form below.