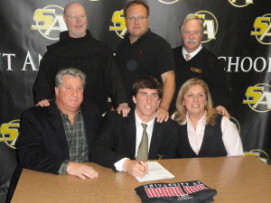 John Tillman is known as a master recruiter. Well he has landed 2 of the top players in Long Island with the the addition of Charlie Raffa (pictured in the middle above) and Joseph Locasio. Locasio is the nephew of perhaps the greatest goalie in the history of the game, Sal Locasio. Here is a piece on Raffa from the Dix Hills Paper:
"It was already a big week for senior Charlie Raffa. The quarterback will lead the Friars in a CHSFL Class AAA semifinal game on Friday at 7 p.m. against unbeaten Fordham Prep. The game will air live on MSG Varsity.Yet for all the talent and determination Raffa has displayed on the football field, the Muttontown teen is an even better midfielder in lacrosse. While he committed to the University of Maryland in July, he made it official on Wednesday, signing the document and then mailing it off. It was a life-altering decision crammed into one momentus week+.
Congrats to the Maryland Lacrosse staff for these 2 additions!!! Welcome Charlie and Joe!!!!
November 12th, 2010 |
1 Comment »