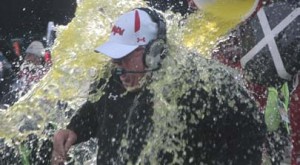 This virtually was never a game. ECU was overmatched everywhere. Like I predicted Md  played with a chip on it's shoulder. Throughout the game chants of Ralph have echoed through RFK.
Maryland opened up with a bomb to Dorsey that was intercepted. But that has been about the only mistake on offense.
ECU must have thrown 15 short 5yard passes in the 1st half none of which worked.
David Mackall had an int that led to 1 of 3 DJ Adams TDs.
The kicking game was way off as Baltz missed a PAT and a 27 yard missed FG'. Ferrara's kickoffs were noticebly short.
As I predicted DaRel had a big day with TD runs of 61 and 91 yards and he easily won the MVP Award.
38062 were in attendance, a record for this Noel. There had to be at least 15000 Terp fans at RFK today.
After the game, Torrey Smith announce that he will be foregoimg his Senior year and entering the NFL draft. This comes as no surprise after the incredible year he had.
Ralph never took his foot off the pedal today and who  could blame him after the tremendous snub the University received from the ACC.
All in all it was a great way to end Ralph's career. Picture Courtesy of terrapintimes.com
December 29th, 2010 |
1 Comment »