Guess who I am not rooting for. Let the VCU -Butler winner be declared the NCAA Champion because that's where the equal playing field ends. Some more comments:
1400 improper phone calls and 1000 improper text messages to recruits is what the UConn coaching staff were found to be responsible for. The damages–a 3 game suspension next year for Calhoun in 3 conference games and the loss of 1 scholarship.
Wouls someone please ask John Wall how he feels watching Kentucky go to the final four while he is a part of the Wizards. Pay attention Jordan, at least Wall got millions.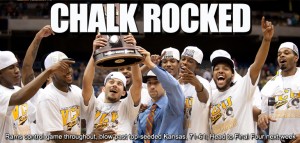 VCU lost to South Florida, Richmond, UAB, Georgia State, Northeastern, Old Dominion, Drexel, James Madison. Think Shaka can coach? By the way, every time Gary loses to one of these teams Terp Nation goes crazy.
It's funny how the 3 best point guards in the tourney are in the final four–#1 Kemba walker  #2 Shelvin Mack, and #3 Brandon Knight. Of course VCU is just about all guards.
Someone on terrapintimes.com made a comment that when Carolina had a few guys in foul trouble, Roy was going to reach down and put in MacDonald All American #8. By the way do yopu think gary could win with Zeller, Henson, and Barnes as his front line? It's obvious Roy can't.
Jordan Williams is not in the first 2 rounds of nbadraft.net 2011 Mock NBA draft.
All in all one of the NCAA tournaments I remember minus the presence of the Terps.
March 27th, 2011 |
2 Comments »