Forever Young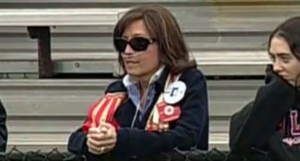 There's no where else to begin this week, except to express my deepest condolences to Ryan Young and his family over the passing of his mother, Maria, late Sunday evening.  I had met Maria briefly during the past four years that Ryan has been with the Terps, but had not had the opportunity to really talk with her or get to know her very well. But over the past few months I have exchanged e-mails with her and have been inspired by her story and touched by her warmth, courage and compassion. I have known for some time that Maria was diagnosed with cancer. Ryan, like many young men, didn't talk much about his mom's battle with cancer, but during the past few years those of us close to the program kept tabs on his mom, hoping and praying that treatment would work and the her battle with cancer would be won.
In March I decided to try to raise some awareness for pancreatic cancer by seeing if Maria was comfortable sharing her story with me and then allowing me to pass it along to ESPNU, which was covering our game at Duke. It would have been perfectly normal for Maria to say that she wished to keep this a private family matter, but instead she embraced the opportunity to share her story in the hope that others will gain some information, insight and, maybe even some inspiration. Here is what she sent to me:
– Three years ago Maria went for a routine exam because she had some stomach pain. At that time, they did a sonogram at New York Presbyterian Hospital and determined that she had a tumor on her pancreas.
– She was not considered a high risk for pancreatic cancer. No one in her family has cancer and she had never smoked, was not a drinker, etc.
–  She had an eight-hour surgery called the Whipple, one week later and began chemotherapy and radiation four weeks after that.
–  The treatment was successful and for two years she was cancer free
–  Sadly, in January of 2010, Maria learned that the pancreatic cancer had metastasized to her lungs and was now considered Stage IV.
–  Since that time, Maria has been undergoing extensive treatment (chemo) at Sloan Kettering Cancer Center.
Maria, with her son Michael, made the trip from Long Island to Durham, N.C., to watch her sons (Ryan for Maryland and Kevin for Duke) play their final regular season game against one another. I had the privilege of talking with Maria at halftime and then following the game. She could not have been more gracious and thoughtful. I had gone over to her to thank her for sharing her story with me and all she wanted to do was thank me for giving her the chance to tell it in the hope that others would be helped if they or someone in their family had to face battling cancer, whether it be pancreatic or otherwise. The trip was taxing for her and Maria was soon after hospitalized with complications with her heart. Ryan took several days away from school that week to be with his mom, but came back to his team to help Maryland defeat Towson that Saturday. This would become a common occurrence for Ryan, as he would travel back to Long Island following games to spend time with his mother. Maria shared that this, along with the company of Michael and Kevin, helped her get through some of her toughest times. Sadly, Maria Young lost her battle with cancer on Sunday, April 17.
Now the tough times lie in front of Ryan and his family. But for Ryan, he has 48 brothers at Maryland to help him through this. Coach Tillman has often referred to Ryan as "the heartbeat of this team," and his teammates would, to a man, wholeheartedly agree.If I learned anything on Saturday it is that Maryland Lacrosse is more than a program or a team. Maryland Lacrosse is a family and families rally around each other in times of great emotion, whether it is joy or sadness.
Ryan is one of the hardest-working Terps I can remember and the captains have said that the best way to honor Ryan and his mom is to practice and play as hard as he does. This team will rally around Ryan and will help take care of him in whatever way he needs. That's what brothers do.
The Terps have dedicated the rest of this season to Maria and the Terps will be wearing purple "MY" stickers on their helmets.
April 19th, 2011 |
0 Comments »
No comments have been posted yet, be the first!
Post a comment by filling out the form below.