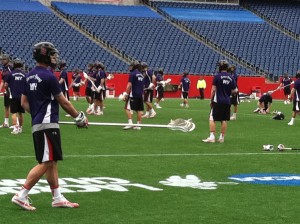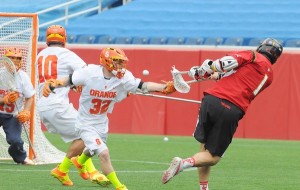 "We're Coming Home"—Saturday night at 6:30 PM, the Maryland Terrapins will explode out of the tunnel to be met with the cheers of 35,000 or so Terrapins. Clearly the stature of the tournament has risen since the Terps were last in the Final Four in Philadelphia in 2006. Some random observations of an incredible game in FOXBORO, MASS.
The key part of the game to me was Drew Snider's goal when the Terps were down 2-0. I thought that one more Syracuse and a 3-0 lead could have proven to be too much too overcome.
Make no mistake about it, this was one great Syracuse team the Terps beat today. I talked with many Cuse fans before the game and they were as upset as I was about the tournament seedings in that they thought it was ridiculous the Orange had to face the Terps ina quarterfinal round thus minimizing their #1 seed.
Coach Tillman has done an incredible job this year and he exudes class, humility, and leadership every time he addresses the public. Props to him for giving credit for the foundation of this team to Coach Cottle once again. He clearly understood the the frustration this Senior Class had felt and tried to minimize letting the past creep into discussions. Winning this game took a 1000 pound weight off the program's shoulders. Coach Tiillman was quick to let everyone know how great he felt for Terrapin nation. Folks we have landed a gem.
The winning play which provided Grant with his best look of the day was devised this week in practice and then executed perfectly by Scot LaRue, Ryan Youn and Grant. Speaking of Scot LaRue–he picked the finest monemt of career to come up big for the Terps. His 3rd quarter goal was brilliant. Oh yea, another assist from Ryan Young.
"[Holmes] was so dominating, and there was nothing we could do," Syracuse coach John Desko said. "He has done it all year, and their defense keeps the game low-scoring. There are set plays they run off the face offs, and they have scored a lot of goals that way." CURTIS WAS 13 for 16 ON FACEOFFS> Game after game Curtis has led the way and it is unbelievable to think that face off personal was the team's big question mark. Curtis is so low key that he probably will not win All America honors but he certainly deserves it.
Foxboro is a great stadium and the hospitality provided to the media was second to none but it is in the middle of nowhere!!! It would be similar to putting a stadium in the undeveloped area between Baltimore and Frederick on Rt 70.
Niko Amato proved to have ice in his veins as he stopped a great shot from Jovan Miller with 10 seconds left in regulation. Memo-37
Dan Burns audio Memo-39
I just can't express how great I feel for the Seniors to finally get a final four notch on their belt. When it clears youtube screening I will post a video I took on the field post game.
Here's the bottom line: the Terps are 2 games away from wiping out 36 years of frustration. Think of all the great players who have played for the Terps who always here this in the background.  I am sure that many will make the trek to Baltimore Saturday to watch the continuation of this great run. Hats off to Doc Dougherty for his work with Niko Amato. Niko has 3 more years of eligibilty left for the Terps.
All year long the pundits criticized the ACC for being overrated in lacrosse. Maryland's ACC Championship was so belittled by the seeding committee that we were seeded below the 3 teams we bested for the title. Remember the only ACC team not in the final four, North Carolina was taken out by another ACC school. The Maryland at Carolina 1st round matchup really looks ridiculous now!!!!
So where do we go from here? Next up is Duke who we will be playing for the 3rd time this year!!!! Both games were close Duke winning game on in overtime and the Terps taking game 2 in the ACC Title Game. It's funny last year I talked to Duke's Coach John Danowski at the Tewaaraton Award night and he told me how great Baltimore was as a venue for the Final Four. He said his team loved it because Baltimore is the only cith where lacrosse players are treated like rock stars.Now he gets to defend his title against the Terrapins righ tin the Terps backyard.
I got to talk with ex coach John Haus, father of John Haus Jr #26 and a middie for Maryland. When I asked him his keys to victory , he said that for Maryland to win he would expect a Senior to rise up and surprise everyone. The answer: Scott LaRue.
An ecstatic Kevin Anderson was busy making plans for next weekend. Fiday night he needs to be in Stonebrook Long island for the Wmen's semifinals, then be home for Saturday's doubleheader at M&T. If the Lady Terps defeat Duke (how ironic is that) Kevin will need to journey back to Long Island Sunday for the title game. Then back to Baltimore if the Men make the title game. These are good problems to have.
Some stats: Terps win face offs 13-3. Terps win groundballs 19-12 abd were 12-12 on clears. (bottom pic from Sun)
I have never made any bones on the air about how much the lacrosse program means to me so I have dealt with the frustration of the big losses. But I really believe a huge hurdle has been cleared. Terrapin lacrosse is back and strong as ever!!!!
May 23rd, 2011 |
0 Comments »
No comments have been posted yet, be the first!
Post a comment by filling out the form below.