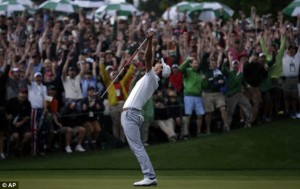 'But there was one guy that inspired a nation of golfers and that's Greg Norman. He's been incredible to me and all the young golfers in Australia and part of this definitely belongs to him.'
It just seemed like Adam had to win the the Masters twice to get this victory. An utterly classic win!!!
April 15th, 2013 |
0 Comments »
No comments have been posted yet, be the first!
Post a comment by filling out the form below.