Two things are true: Greivis Vasquez is planning an NBA comeback after a lengthy rehab, and the Wizards are in desperate need of a backup point guard who can stretch to play shooting guard. Potential Match??? Somehow no one put these two together until a 106.7 and 105.7 the fan interview recently. When Greivis was asked if he wanted to play for his hometown Wizards, he responded: "That's the plan. Hopefully they're interested, obviously they want to see me healthy…"
Strictly from a basketball perspective there are issues with Greivis coming to the Verizon Center. John Wall plays a very fast game while Greivis is slower, there are also big injury concerns, and even if he's healthy there's no guarantee he's still the player he was pre-multiple injuries. On the positive side, Greivis may take the veteran minimum allowing the Wizards to spend their MLE (mid-level exception) elsewhere on the roster, in this case if he does still have gas in the tank, the Wizards may be getting somewhere.
From the fans perspective, this would make a lot of people very happy. I remember when my dad (Wayne Viener), Intern Mason, and I went to Wizards-Hawks game 2, a guy in a Juan Dixon Wizards jersey was getting complimented many times over for his fashion sense. Terps and Wizards fans have a lot of overlap. As good as Wall and Beal are, neither of them have very vocal personalities, this is not the case with Greivis. His flamboyant personality combined with his Terp roots could, make him a fan favorite. He could, in my opinion help build a relationship with this area that we haven't seen since the Bullets. I could see him being the 3rd most purchased jersey on the team possibly (behind Wall, and Beal).
For me personally, seeing Greivis in a Wizards jersey is an absolute dream. He is my favorite Maryland player from any sport of all-time. When the 2010 draft (the year he was picked) was going I was hopeful, I knew from the mocks that he was going to be a late first rounder, I also knew the Wizards had the thirtieth pick of the draft. He kept falling, I kept getting more hopeful. It didn't come to pass though, the Hornets snapped him up at 28, I was devastated. Once again, it's a real possibility that number 21 ends up in red, white, and blue. Count me in to order a Greivis Vasquez jersey the day he is signed.
"All aboard the #GV2DC train."-Bullets Forever Blog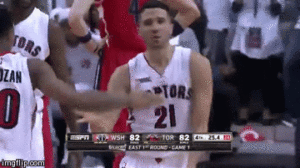 June 16th, 2017 |
0 Comments »
No comments have been posted yet, be the first!
Post a comment by filling out the form below.