Ground balls Terps 35 . Colgate 22
Faceoffs : Terps 14 Colgate 6
Say no more. The #3 Terps thoroughly dominated the team that went to the Carrier Dome and handled Cuse.Jared Bernhardt has 4G 1A. Logan 3G 2A. Louis Dubick and Will Snider each had 1G 1A.
Note the last 2 guys. Dubick has blended into the attack nicely and today had a wicked back handed goal as the Terps pulled away.
Terps meed to clear up the … Read More »
Maryland takes down Bucknell 11-6 in College Park. Coach Tillman addresses the media.
Coach Tillman addresses the media.
TerpTalk is the #1 source for Maryland athletics videos.  The source for the insider's view on the University of Maryland football, basketball, and lacrosse. TerpTalk covers the Terrapins across the Big Ten, at home and on the road. 
Here is the Duke press conference on our sister site – In the Crease Lax.
Here are the dates and times for the 1st round
Saturday, May 12
No. 3 Yale vs. UMass | 12 p.m. ET | ESPNU
No. 4 Duke vs. Villanova | 2:15 p.m. | ESPNU
No. 2 Albany vs. Richmond | 5 p.m. | ESPNU
No. 6 Loyola Maryland vs. Virginia | 7:15 p.m. on ESPNU
Sunday, May 13
No. 1 Maryland vs. Casinius/Robert Morris | 12 p.m. | ESPNU
No. 7 Notre Dame … Read More »
By Todd Carton –
Here are the adjectives: inadequate, insufficient, missing, deficient, lacking. And here are the nouns: passion, focus, intensity, urgency, luster. Pair any of the adjectives with any of the nouns and you will have an adequate description of Maryland's play Sunday in a 12-10 home loss to Ohio State on senior day for the Terrapins men's lacrosse team.
It's likely that by the time all of the announced crowd of 6,395 had passed through security and settled … Read More »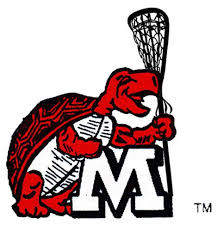 Check out Todd Carton's game recap on the Maryland Women's lacrosse win over Penn State.  On our sister site, www.inthecreaselax.com click here