By Wayne Viener –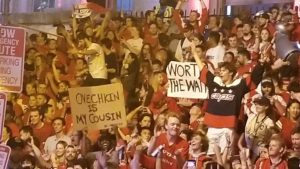 43 years later, from being a loser, a disappointment and now a Champion. The road has not been easy.
Stanley Cup Champions.
Never … Read More »
By Jordan Viener – I have always felt like UMD and pro sports have a strange relationship. What I mean by this is that the Maryland fanbase is almost dead split between the DC and Baltimore metro areas, just look at this poll from Testudo Times few … Read More »
The Capitals win – here is the "scene from last night" with Intern Mason and Wayne.  It was a great, crazy and unforgettable visit to DC –
Sting, photos, player intros and the National Anthem from the corner of 8th and G Street in DC –
On the Washington Capitals by Wayne Viener
Can you Win the Cup?
43 Years later, 20 seasons since the last chance and in a city where no team has gotten this close in 2 decades – Can you Win … Read More »