2. Baltimore Orioles: Heston Kjerstad, RF, Arkansas
Who is Kjerstad? Kjerstad might have the best raw power of any left-handed hitter in the draft, has performed well at Arkansas and led Team USA with a .395 average last summer. He's strictly a corner outfielder, and his swing has a lot of moving parts, including a pause with a big leg kick. The strikeouts are a concern — he had a poor 65/21 strikeout-to-walk ratio as a sophomore — but he was … Read More »
The Baltimore Orioles were active at the non-waiver trade deadline, trading six players in multiple trades over the course of a couple of weeks.
But one player remained on the roster – veteran center fielder Adam Jones.
Jones, who has spent the last 11 seasons in Baltimore, could have gone to a contender like the rest of his former teammates, but he vetoed a proposed trade to the Philadelphia Phillies, who are in first place in … Read More »
Terrapin Asst Lacrosse Coach Jesse Bernhardt from the Bayhawks calls in to discuss his experience with the Champion USA squad, the upcoming playoffs, and updates on Maryland Lacrosse
Updates and opinions on the complete overhaul of the O's
Update on the 2019 Football recruit verbals
Talking Orioles and World Cup
Here is the Sunday Focus.  This week it is from the Orioles, photo credits to Dr Jeffery Gaber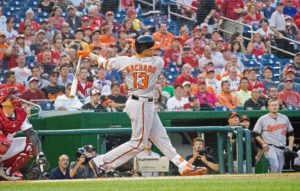 The stars were out, Manny above and Bryce Harper below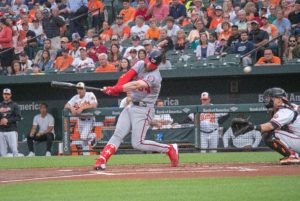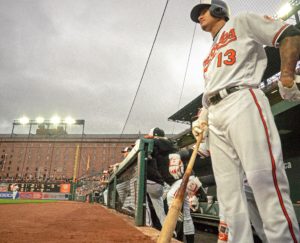 Read More »
By Jordan Viener – I have always felt like UMD and pro sports have a strange relationship. What I mean by this is that the Maryland fanbase is almost dead split between the DC and Baltimore metro areas, just look at this poll from Testudo Times few months back. Because of this divide, I feel like both the media team for the Terps, as well as Terp media outlets have been reluctant to embrace pro teams due … Read More »
Bruce Posner is the Sports Maven with Wayne Viener
It's worth watching again – Click on this post to watch the AJ homerun
— Baltimore Orioles (@Orioles) March 29, 2018
Hope springs eternal on Opening Day. Dylan Bundy takes the mound today and hopefully starts the O's off with a winning performance. Vegas has the over/under on wins at 71 1/2  I am much more optimistic then that.
12 runs on 20 hits will usually get you a W—O's 12 A's 5—Tim Beckham 4 hits–no Home Runs
Buck not using Britton much
Bryce Harper injured his knee running strongly to 1B
"Minor League Box Office Sensation" Tim Tebow was beaned Saturday yet opted to stay in the game
1st Terps Game Announced for 2018–Vs North Carolina at the Pacific Coast Shootout on March 24 at Orange Coast College in Costa Mesa, Cali
It will be Ohio vs Denver … Read More »