As it stands now, the Wizards would face Toronto and Greivis in Round 1.
The only downside to tonight's game is that Nene left the game with 6 minutes left with what appears to be a sprained knee.

What a waste of money signing Dwight on this team. Early in the 2nd half Metta WP is dismantling the Wiz but then again it's the Wizards. When Nash and Stevie return this team will become slightly better then mediocre. D'Antoni can't win with his style with this team. Mitch got it wrong. Larry Brown could win with this team. One thing about Kobe , he plays his heart out at all times.
I'm trying to understand why Nene is on the bench. Is Wittman preserving him until his next injury. Wittman also gave Seraphin a tongue lashing at the end of the half. Somebody please call the Maestro up in time to reconsider. Kobe is scoring but his outside shot just is horrible. #24 had an Iverson like night–30 points on 9-29 shooting  Anyway it is a sellout for these 2 subpar teams. 102-96 Lakers who are now 10-14 and the Wizards fall to 3-17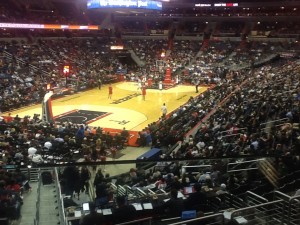 Jordan Crawford and Shaun Livingstone played a strong tandem role as the Wizards moved to 1-12. It's incredible how strong the crowd was for the Wizards even after their 0-12 start. No doubt, DC is a great basketball town. John Wall will return probably in about 2 -3 weeks.
Offseason Transactions:Drafted Bradley Beal and Tomas Satoransky; traded Rashard Lewis and 46th pick of draft to Hornets for Emeka Okafor and Trevor Ariza; amnestied Andray Blatche; re-signed Cartier Martin; signed A.J. Price.
Grade: B
For a team that had very little financial flexibility, the Wizards sure got a lot done.
Ariza and Okafor immediately make Washington a better team in the East, and Beal's scoring prowess coupled with his underrated perimeter defense and prolific transition abilities gives John Wall the running mate he has sorely needed the past two years.
Amnestying Blatche, thereby ridding the team of his contract and poisonous attitude, was a strong move as well.
The Wizards seemingly started getting serious about changing their team persona when they acquired Nene from the Nuggets last season. While that acquisition hasn't exactly panned out, though, this offseason's additions certainly further that cause.
For the better of the organization, which is a fairly new concept within our nation's capital. from the Baltimore Sun
I am all for giving Randy a chance but is he not Flip's best buddy, isn't he a part of the Current disaster—time will tell. What will Randy do different —what could anyone do different.  And yet 15000–19000 fans keep coming to the games. Ups for DC –proving it is a great basketball town. Ernie held on to Flip way too long–when Gilbert corrupted the team that should have been it. Where do they go from here?