By Wayne Viener –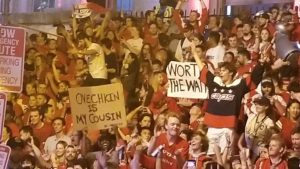 43 years later, from being a loser, a disappointment and now a Champion. The road has not been easy.
Stanley Cup Champions.
Never thought I would get to write that.
As part of a crowd of thousands who flocked downtown to be part of celebration I saw young and old. Just … Read More »
By Jordan Viener – I have always felt like UMD and pro sports have a strange relationship. What I mean by this is that the Maryland fanbase is almost dead split between the DC and Baltimore metro areas, just look at this poll from Testudo Times few months back. Because of this divide, I feel like both the media team for the Terps, as well as Terp media outlets have been reluctant to embrace pro teams due … Read More »
The Capitals win – here is the "scene from last night" with Intern Mason and Wayne.  It was a great, crazy and unforgettable visit to DC –
Sting, photos, player intros and the National Anthem from the corner of 8th and G Street in DC –
On the Washington Capitals by Wayne Viener
Can you Win the Cup?
43 Years later, 20 seasons since the last chance and in a city where no team has gotten this close in 2 decades – Can you Win the Cup?
Can you define the Ovie legacy?
One of the greatest of all-time finally gets to a Cup final.  He brings his hall of fame running … Read More »